The global dark fiber market size is expected to reach $13.31 Billion by 2028 growing at the CAGR of 13.11% from 2021 to 2028. Dark fiber is an unused optical fiber that is used in telecommunications and network communications. A dark fiber network can be constructed in different ways. The most prevalent configurations are point-to-point or point-to-multipoint, although dense wavelength division multiplexing (DWDM) is a major factor in the development and improvement of dark fiber.  Scalability, reduced network latency, increased security, and reliability is all benefits of the dark fiber. Several large businesses and organizations benefit from network speed and network independence. Dark Fiber is used in the automobile, healthcare, and aerospace industries.
| Parameters | Indicators |
| --- | --- |
| Market Size (2020) | $ Billion |
| CAGR (2021 to 2028) | 13.11% |
| Market Classification | Fiber Type, Network Type, and End-User |
| Key Companies Profiled | AT&T Intellectual Property, Colt Technology Services Group Limited, Comcast Corporation, Consolidated Communications, GTT Communications Inc, CenturyLink Inc, NTT Communications Corporation, Verizon Communications Inc, Windstream Communications, Zayo Group. |
| Key Countries/Regions Analyzed | US, Canada, Mexico, UK, Germany, France, Italy, Rest of Europe, China, India, Japan, South Korea, Rest of Asia Pacific, Middle East & Africa, and South America |
| Base Year | 2020 |
| Estimated Year | 2021 |
| Forecast Years | 2022 to 2028 |
Driving Factors
The factors driving the growth of the global Dark Fiber market include growth in demand of 5g network, growing need for internet bandwidth, and rising of the dependable and secure network.
Growth in demand of 5G Network
The 5G network and its requirements, such as cloud-based networking, gaming, and video streaming, are in high demand in the telecom and networking business. Dark fibers can meet the growing need for high internet speeds and reliable connectivity. The digital transformation is touching practically every industry, and data volumes are fast increasing. Within a certain radius, data must be delivered for analysis and control purposes due to the intelligent networking of equipment and sensors. All of this is possible with a 5G campus network. As a result, one of the primary drivers of market growth is the increased need for 5G networks.
Growing need for internet bandwidth
The need for black fiber will rise due to the growing demand for high bandwidth. One of the industries driving the fiber optic market is the information technology industry. The need for more bandwidth is driven by traffic demands, cloud industry needs, and IP traffic. The need for black fiber optic cables will be driven by the need for high optical connection speeds.
Restraining factors
The factors restraining the growth of the global Dark Fiber market include inadequate monitoring systems and a potentially hazardous installation.
Key Insight in the report:
The Global Dark Fiber market report covers Executive Summary, Market Dynamics, Trend Analysis, Market Size and Forecast, Competitive Intelligence, Market Positioning, Product Benchmarking, and Opportunity Analysis.
The report covers extensive competitive intelligence which includes the following data points:
Business Overview
Business Model
Financial Data
Financial – Existing
Financial – Funding
Product Segment Analysis and specification
Recent Development and Company Strategy Analysis
SWOT Analysis
Dark Fiber Market Segmentation
The report covers market sizing and forecasting at the country level as well as at the segment level. Dark Fiber Market is analyzed across the below-mentioned different segments: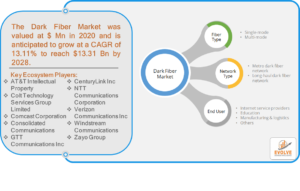 Fiber Type
Network Type

Metro dark fiber network
Long-haul dark fiber network

End-User

Internet service providers
Education
Manufacturing & logistics
Others
Regional analysis
The dark fiber market in North America is anticipated to be the most lucrative. Due to increasing demand for fiber networks in the ISP and telecommunications business, The region is expected to lead the market due to rising demand for fiber networks in the ISP and telecommunications industry, BFSI industry, IT-enabled services, and military and aerospace industry. The presence of dark fiber provider businesses also helps this region's industry flourish.
The Dark Fiber Market is analyzed across the mentioned region.
North America
Europe

UK
Germany
France
Italy
Rest of Europe

Asia Pacific

China
Japan
South Korea
India
Rest of Asia Pacific

Rest of the World
Dark Fiber Market Players:
The key players in Dark Fiber Market include:
AT&T Intellectual Property
Colt Technology Services Group Limited
Comcast Corporation
Consolidated Communications
GTT Communications Inc
CenturyLink Inc
NTT Communications Corporation
Verizon Communications Inc
Windstream Communications
Zayo Group
REPORT CONTENT BRIEF:
High-level analysis of the current and future Dark Fiber market trends and opportunities
Detailed analysis on current market drivers, restraining factors, and opportunities in the future
Dark Fiber market historical market size for the year 2020, and forecast from 2021 to 2028
Dark Fiber market share analysis at each product level
Competitor analysis with a detailed insight into its product segment, financial strength, and strategies adopted.
Identifies key strategies adopted including product launches and developments, mergers and acquisitions, joint ventures, collaborations, and partnerships as well as funding taken and investment done, among others.