The global Building Management System market size is expected to reach $31.1 Billion by 2028 growing at the CAGR of 13.37% from 2021 to 2028. Building Management System is a platform that property owners and managers use to track and manage building operations. The basic idea behind BMS is that every system in the building gets its own management tool and expertise. With BMS, investors can use software to track their assets more efficiently.
| Parameters | Indicators |
| --- | --- |
| Market Size (2019) | $11.1 Billion |
| CAGR (2021 to 2028) | 13.37% |
| Market Classification | Software, Service, Application |
| Key Companies Profiled | Honeywell International Inc. (US), Siemens AG (Germany), Johnson Controls International PLC (Ireland), Schneider Electric SE (France), United Technologies Corp. (US), IBM Corporation (US), Ingersoll-Rand Plc (Ireland), and Delta Controls. |
| Key Countries/Regions Analyzed | US, Canada, Mexico, UK, Germany, France, Italy, Rest of Europe, China, India, Japan, South Korea, Rest of Asia Pacific, Middle East & Africa, and South America |
| Base Year | 2020 |
| Estimated Year | 2021 |
| Forecast Years | 2022 to 2028 |
Driving Factors
There are various factors that are driving the market of the Building Management System, these include the increasing demand for energy and sustainability, the growing adoption of IoT and AI, and an increase in demand for eco­-friendly buildings.
Increasing demand for energy and sustainability
In an effort to reach sustainability goals, building management systems are repurposing facilities to match changing business needs. The building of tomorrow will be more sustainable, flexible, and efficient than today's typical facility. With the growing intelligence of connected devices on networks, data generation rates are increasing dramatically. These new technologies allow for smarter decisions that result in higher efficiency within businesses' buildings.
Cloud technology and big data analytics have proven helpful in supporting the development of internet-of-things (IoT) and artificial intelligence (AI). Building owners have recognized the need to repurpose facilities by pioneering a move toward smart building technology – which prioritizes energy management systems, waste reduction efforts, and creating a sustainable community.
Restraining factors
High implementation costs and lack of technically skilled workers are a few factors that hinder the growth of the Building Management System market.
Key Insight in the report:
The Global Building Management System market report covers Executive Summary, Market Dynamics, Trend Analysis, Market Size and Forecast, Competitive Intelligence, Market Positioning, Product Benchmarking, and Opportunity Analysis.
The report covers extensive competitive intelligence which includes the following data points:
Business Overview
Business Model
Financial Data
Financial – Existing
Financial – Funding
Product Segment Analysis and specification
Recent Development and Company Strategy Analysis
SWOT Analysis
Building Management System Market Segmentation
The report covers market sizing and forecasting at the country level as well as at the segment level. Building Management System Market is analyzed across the below-mentioned different segments: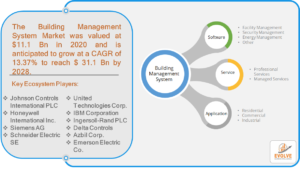 By Software
Facility Management
Security Management
Energy Management
Other
By Service
Professional Services
Managed Services
By Application
Residential
Commercial
Industrial
Regional analysis
North America is the world's biggest market for building management systems. The North American region is expected to account for the highest demand for building management systems in the world during the coming years. Among all drivers of demand, energy savings, along with a drive towards increased safety and security in buildings, are expected to account for the strongest growth in revenue moving forward as there is a steadily increasing need across North American regions to implement smart-building technology that will ensure seamless operation over time.
The Building Management System Market is analyzed across the below mentioned region.
North America
Europe

UK
Germany
France
Italy
Rest of Europe

The Asia Pacific

China
Japan
South Korea
India
Rest of Asia Pacific

Rest of the World
Building Management System Market Ecosystem Players:
Some of the key ecosystem players in of Acupuncture Needles Market include:
Johnson Controls International PLC
Honeywell International Inc.
Siemens AG
Schneider Electric SE
United Technologies Corp.
IBM Corporation
Ingersoll-Rand PLC
Delta Controls
Azbil Corp.
Emerson Electric Co.
REPORT CONTENT BRIEF:
High-level analysis of the current and future market trends and opportunities
Detailed analysis on current market drivers, restraining factors, and opportunities in the future
Acupuncture Needles market historical market size for the year 2019, and forecast from 2020 to 2027
Vendor market share analysis at each product level
Competitor analysis with a detailed insight into its product segment, financial strength, and strategies adopted.
Identifies key strategies adopted including product launches and developments, mergers and acquisitions, joint ventures, collaborations, and partnerships as well as funding taken and investment done, among others.