The global Wheat Protein market size is expected to reach $ 3.30 Billion by 2028 growing at the CAGR of 5.88% from 2021 to 2028. Wheat protein is an emulsifier that is used in cosmetic industries to impose the consistency of the product more efficiently. Wheat protein is characterized by a high nutritional value with low-calorie content. In addition, wheat protein helps control blood sugar levels by preventing them from increasing too much, as it also keeps them from decreasing to a level at which they may become dangerous for your health. The incidence of diabetes and esophagus has greatly increased over time, prompting consumers to turn in greater numbers towards wheat-based goods to help them better manage their energy levels according to a secure and healthy standard.
| Parameters | Indicators |
| --- | --- |
| Market Size (2019) | $ 3.30 Billion |
| CAGR (2021 to 2028) | 5.88% |
| Market Classification | Product Type, Basis of Form, Application |
| Key Companies Profiled | ADM, Cargill, Agrana, MGP Ingredients, Manildra Group, Roquette, Glico Nutrition, Crespel & Deiters, Crop Energies, Batory Foods |
| Key Countries/Regions Analyzed | US, Canada, Mexico, UK, Germany, France, Italy, Rest of Europe, China, India, Japan, South Korea, Rest of Asia Pacific, Middle East & Africa, and South America |
| Base Year | 2020 |
| Estimated Year | 2021 |
| Forecast Years | 2022 to 2028 |
Driving Factors
The factors driving the growth of the global Wheat Protein market include the increasing popularity of wheat protein-based snacks bars and the increase in application for cosmetic products.
The increasing popularity of wheat protein-based snack bars
The major factor driving the growth of the wheat protein market is the increasing popularity of wheat protein-based snack bars. Wheat protein is a high-quality protein and is majorly used in the health and fitness industry. People are increasingly aware of the lack of protein in their daily diet and the importance of it for weight management and overall health. Thus, various manufacturers are launching wheat protein-based snack bars to fulfill the growing demand. Wheat protein has a great balance of amino acids as well as it is gluten-free and is a source of calcium. These are a few factors that are driving the growth of the protein market.
Usage in cosmetic products
The use of wheat protein for cosmetic products is the primary driving force that is forecasted to drive the growth of the market. Wheat protein is a protein that is extracted from wheat. It is a source of essential amino acids required by the human body. Though some protein supplements are available in the market, natural protein offering an array of health benefits is gaining popularity among consumers. The market is segmented based on type into cereals and grains, and by application into infant formula and beverages.
Restraining factors
The market may be restrained by the limited supply of wheat in this protein extraction process. Furthermore, gluten causes diseases among consumers that increase prices of wheat with high protein content and the presence of large alternatives and rising incidences of celiac disease, demand for gluten is falling. Products containing wheat extract are now mainly used in food additives to enhance nutritional quality rather than as the main ingredient.
Key Insight in the report:
The Global Wheat Protein market report covers Executive Summary, Market Dynamics, Trend Analysis, Market Size and Forecast, Competitive Intelligence, Market Positioning, Product Benchmarking, and Opportunity Analysis.
The report covers extensive competitive intelligence which includes the following data points:
Business Overview
Business Model
Financial Data
Financial – Existing
Financial – Funding
Product Segment Analysis and specification
Recent Development and Company Strategy Analysis
SWOT Analysis
Wheat Protein Market Segmentation
The report covers market sizing and forecasting at the country level as well as at the segment level. Wheat Protein Market is analyzed across the below-mentioned different segments: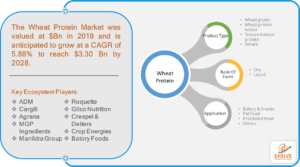 By Product Type
Wheat gluten
Wheat protein isolate
Textured wheat protein
Others
By Basis Of Form
By Application
Bakery & Snacks
Pet Food
Processed meat
Others
Regional analysis
North America holds the largest market share in the wheat protein market and is one of the leading consumers of wheat protein supplements in the world. The reason behind the high demand for wheat protein in this region is that wheat protein is a more cost-effective source of protein that is rich in various amino acids and is beneficial for health. Further, the health and wellness trends that are gaining popularity in the region such as gluten intolerance and lactose intolerance are expected to propel the demand for wheat protein supplements over the forecast period.
The Global Wheat Protein Market is analyzed across the below-mentioned region.
North America
Europe

UK
Germany
France
Italy
Rest of Europe

Asia Pacific

China
Japan
South Korea
India
Rest of Asia Pacific
Rest of the World
Wheat Protein Market Players:
Some of the key players in the Wheat Protein market include:
ADM
Cargill
Agrana
MGP Ingredients
Manildra Group.
Roquette
Glico Nutrition
Crespel & Deiters
Crop Energies
Batory Foods
REPORT CONTENT BRIEF:
High-level analysis of the current and future Wheat Protein market trends and opportunities
Detailed analysis on current market drivers, restraining factors, and opportunities in the future
Wheat Protein market historical market size for the year 2020, and forecast from 2021 to 2028
Wheat Protein market share analysis at each product level
Competitor analysis with a detailed insight into its product segment, financial strength, and strategies adopted.
Identifies key strategies adopted including product launches and developments, mergers and acquisitions, joint ventures, collaborations, and partnerships as well as funding taken and investment done, among others.